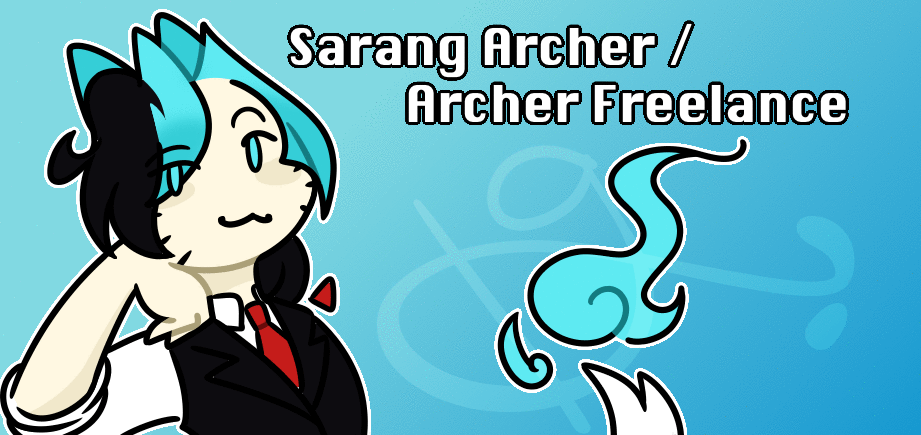 About Me
Name: Archer J FawkesBusiness Name: Sarang ArcherSignature: has a lowercase "g" fashioned in the shape of an arrowPronouns: he/himNationality: Korean/AmericanAge: 21+ (Feb 22)College: Cal State Fullerton (Education Undergrad)Freelance Illustrator, Character Designer, Concept Artist, Graphic/Logo Design
↓ Busts ↓
↓ Animated Busts ↓
↓ Fullbody (click) ↓
↓ Animated Fullbody ↓
↓ Chibis Style 1 ↓
↓ Chibis Style 2 ↓
Do's and Don'ts
| Do's | Ask | Don'ts |
| --- | --- | --- |
| Furry/Anthro | (18+) Pinup/ Suggestive | Realistic Gore |
| Fan art | Gore/Blood (cartoon) | Bigoted Themes |
| Diverse Bodies | Drug Use | Explicit NSFW/Fetish |
| Original Characters | Body Horror | Complex Mech/Armor |
(18+) Fullbody example of suggestive content here
! Please be sure to have references at the ready !
Base Prices *
* - Complexity and other factors may increase the price
Base Prices below in USD
| . | Digital+ Traditional | Animated (digital) |
| --- | --- | --- |
| Bust | $15 | $20 |
| Halfbody | $30 | $40 |
| Fullbody | $50 | $65 |
| Chibi Style 1 (Fullbody) | $45 | $65 |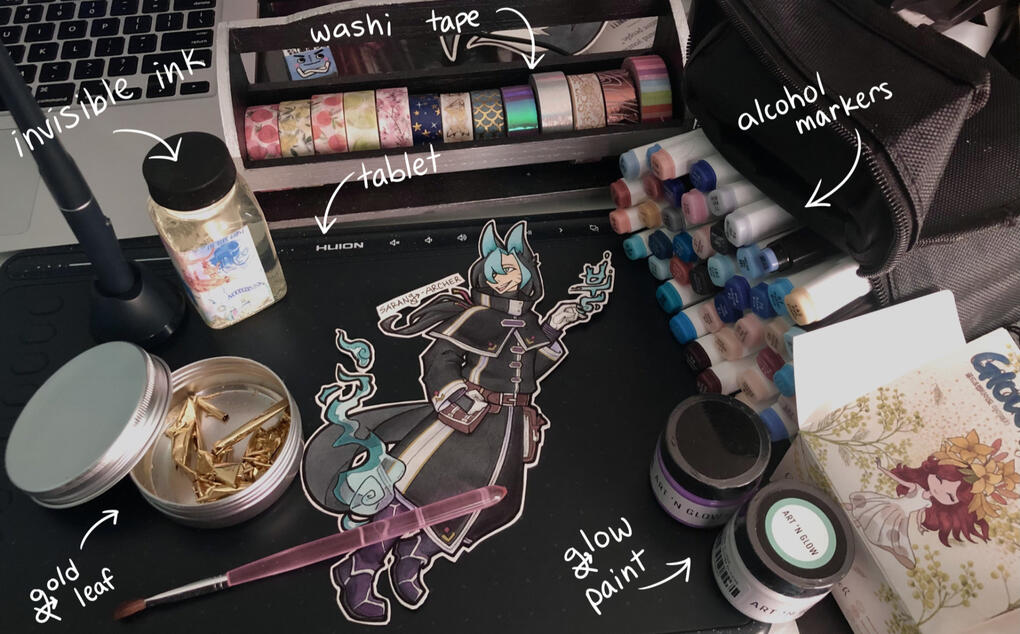 | Additional Items | Cost (USD) |
| --- | --- |
| +1 Character** (per piece) | + $ 1/2 total |
| (18+) Suggestive/Pinup | + $15-20 |
| Body Horror/Blood/Gore/etc. | ASK |
| +1 Limb (add per limb)*** | + $8-15 |
| (Animated) +1 Moving Part | ASK |
| (Traditional) Add-On Mediums | + $10-$20 |
| (Traditional) Shipping/Delivery | ASK |
** - Familiars/pets count as additional characters
*** - Additional limbs beyond the human form of 2 arms, 2 legs, and a head
Usage Policy/ToS
General
The artist (Sarang Archer, Archer Fawkes, Archer Freelance) maintains the right to claim intellectual ownership of creating the piece or design. PayPal invoices are permanently kept for archiving purposes.The artist also maintains the right to decline or refund a client for any reason that does not have to be disclosed.The artist may cease production on a commission for any reason that does not have to be disclosed, with partial refund or other reasonable compensation for the client with discussion as needed.Upon approval, watermarked commissions may be posted to any of the artist's social medias and will be showcased as samples at the artist's discretion. Posted watermarked commissions will be deleted from public social media if the client requests. Illustrations drawn by the artist may be used as reference for the character design.DRAWN IMAGE MAY NOT BE ALTERED IN ANY WAY. Removing watermarks and art credit is strictly prohibited and the artist will take legal action.Commissioned pieces must be used respectfully and appropriately. Do not use commissioned work for anti- LGBTQ+, sexist, racist, CSA/pedophilic, and/or religious propaganda of any kind.
Shipping and Delivery
Cheapest rates for USPS priority shipping are used, with tracking, and shipping costs are paid for by the client. Packaged in a pet-free workspace and all involved parties are COVID-19 vaccinated.Traditional commission work, prints, and other paper-based goods will be double packaged with stiff, insulating, waterproofing material. Other item packaging TBA.Shipping costs will be a flat rate of $5 USD unless item(s) being shipped will require higher shipping payment and will be communicated with the client.After the item is sent out to the USPS facility, the artist cannot claim liability or replace missing, stolen, or damaged goods. An estimated delivery date will be provided to the client before shipping and the client is suggested to be available at that given timeframe.
Personal Use
Please link back to the artist's social medias or this carrd publicly or where easily accessible.The client/customer/commissioner is welcome to share commissioned pieces with the above credits given to trusted individuals. Sharing unwatermarked pieces at high-quality is at the client's discretion and is not recommended due to potential risks of theft.
Business Usage
This includes but is not limited to: livestreamers, podcasts for profit, fundraisers, promo videos, business startup tools, website UI, sponsorships, etc.Please mention your business direction/goals as well as current sales/profits so I can adjust my prices accordingly. Post-commission compensation for the artist may be discussed, and may result in higher priority and better quality for the client.The artist's social medias are required to be linked and shared in an easily-accessible manner without subtlety (stream description, hyperlinks, end credits, etc).